According to a recent study, the chemicals in paint can increase your risk of multiple sclerosis (MS) by 7 times if you already possess the latent genes. Even if you don't have the underlying genes, you have a 50% greater chance of experiencing the disease after regular exposure to paints and coatings.
As research reveals major hazards of working with paints and coatings, it's critical for today's workplace to have a solid safety strategy in place. As an employer, you are responsible for maintaining the health and safety of your staff under the Occupational Safety and Health Act (OSHA). The fines for violating OSHA can range from $12,000 to more than $120,000 per violation. If your state has its own Occupational Safety and Health plan, your business can also face penalties and fines at the state level for violating these regulations.
For the health of your workers and your business's bottom line, you need to be aware of the risks of the products you use and implement relevant policies to minimize those risks. From ventilation to protective programs and gear, here are four key concepts to keep in mind to ensure employee safety when painting or coating is involved in any project.
1. Ventilation is Crucial
Exposure to any toxic substance is dangerous, but a restricted space with poor ventilation can compound the risk of paint and coating fumes. An exhaust ventilation system can help by driving chemicals away from the immediate workspace. This is especially effective in commercial environments and warehouses which may not have vent and window access available.
Dilution ventilation systems can also minimize the presence of dangerous vapors during the paint or coating application process and can be combined with fan support. However, individual respirators or self-contained breathing devices should always be used in areas of dense toxic fumes.
2. All Employees Must Wear Protective Gear
As an employer, it's important that you provide the proper protective gear for your employees to wear while working — and enforce the rules requiring that employees actually wear it. While the nature of the work environment will dictate the specific uniform for your staff, common essentials include:
Eye protection with chemical goggles

EVOH, rubber, laminate, or neoprene gloves to prevent skin exposure

Coveralls to minimize applicator contact

Stable and robust boots to reduce exposure and prevent slips
It should be a company-wide policy that any employee interacting with paints or coatings during the workday must wear the appropriate protective gear. While the items listed above cover the basics, be sure to check for any specific protective equipment recommendations from the manufacturer of the paint or coating you're using. Be willing to invest in high-quality gear and replace any items that are old or damaged; it's far less costly than dealing with a workplace injury or health issue down the road.
---
---
3. Maintain Proper Housekeeping
Careful housekeeping strategies reduce the level of exposure employees experience at a worksite. There are a few actions you can take in addition to following the personal protective equipment (PPE) rules and manufacturer recommendations for your paint or coating.
Disposable containers for mixing substances ensure that leftover chemicals can be removed from the environment quickly. Additional toxic substances and tools must also be covered or moved to a well-ventilated location when not in use. All employees should have access to a non-toxic area where they can change out of their uniforms and enjoy lunch or work breaks.
Providing staff with enough time to manage and clean their workspaces following each shift can also reduce the risk that spills and other accidents will lead to enhanced chemical exposure. Build this time into the time allotted for projects involving paints and coatings.
4. Implement Injury and Illness Prevention Programs
OSHA supports the implementation of prevention programs for illness and injury in all industrial environments, including those featuring chemical solvents. Assess the health and safety requirements of your industry according to federal and local guidelines, and implement strategies to ensure the safety of your employees accordingly.
Injury and illness prevention programs can include policies for everything from hazard prevention and control — such as the use of proper ventilation — to safety training and education. By regularly evaluating and updating your safety strategies, you can ensure that you continue improving health and safety standards at your company.
5. Move Away from Toxic Products
While you can implement strategies to improve worker safety, no action is more effective than switching to a non-toxic coating product. EonCoat® is an anti-corrosion coating that is free from volatile organic compounds (VOCs) and hazardous air pollutants (HAPs) commonly found in traditional coatings. If you work in oil and gas, industrial, infrastructure, and other similar industries then you know firsthand the costs and risks associated with most products used to combat corrosion.
EonCoat's unique formula ensures minimal emissions. Detailed analytical tests have proven that our coating does not contain harmful chemicals like acetone, vinyl chloride, and styrene. That means EonCoat® provides you with a fast-drying, strong layer of corrosion protection — without compromising employee health. Working with a non-toxic product makes it easier and less costly to protect your workforce from potential health hazards.
Contact EonCoat today to find out how our patented coating ensures the safest conditions and the best results for your valuable industry assets.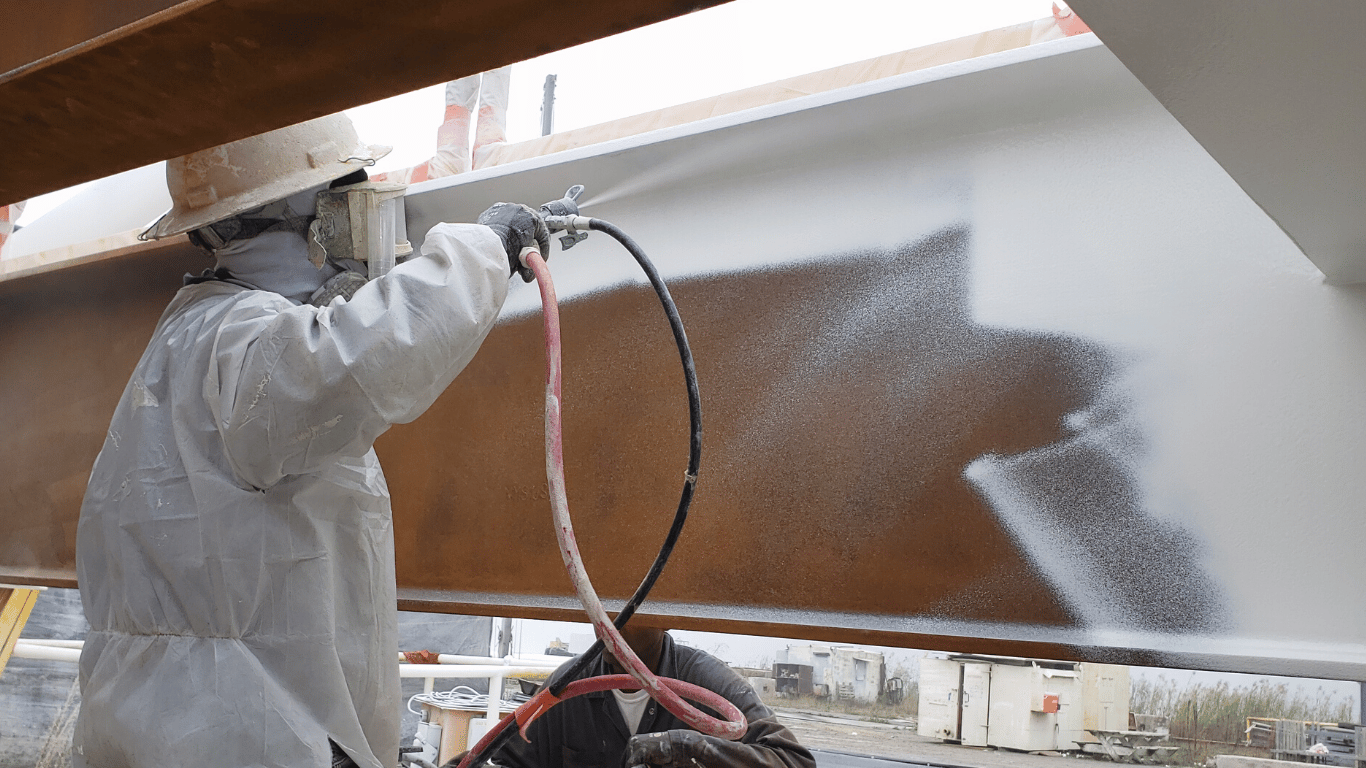 Ready to Learn More About EonCoat?