Overspray Has Happened To Every Contractor At Some Point.
Let's Talk About Stopping Overspray!
One of the most challenging parts of spraying, either paint or a protective coating, is protecting all the places you do not want the paint to land. That is the simple definition of overspray. The working definition of overspray is the "application of any form of paint … or non-water-soluble airborne particulate material onto an unintended location." Let's also look at the working definition of dryfall as any "paint or coating that has characteristics of fast drying (the droplets fall in such a way that when they land, they are solid)." Common sources of overspray can include (but not be limited to):
bridge painting jobs,
construction sites,
large building paintings,
painting a water tower, and
residential exterior home painting.
THE HISTORY OF HOW WE GOT THOSE DEFINITIONS
In 2012, we worked closely with the folks at Sherwin Williams to define the technical SSPC details of dryfall and, therefore, overspray. We engineered the definition by heading up a ladder, pointing down toward a brown bag lying on the ground, and spraying. Yes – it was that simple. Everything that reached the brown bag 10 feet away should be dryfall, not wet paint or coating. So, essentially, we should be able to pick up the brown bag and dust off the dry remnants of paint.
At that point in time, EonCoat had already been specifically engineered to have a dryfall range of 5 feet. However, most other coatings and paints can't accomplish the 5-foot goal, so I compromised with Sherwin Williams. We agreed that a 10-foot dryfall range was reasonable and appropriate. EonCoat was a participant and voting member in establishing the standard, and the industry agreed to these terms. There is a good chance that a dryfall coating is a two-component product sprayed with plural spray equipment, as is EonCoat. But that is not universally true. For example, dryfall acrylics that you apply with a typical airless, alkyds, and latex. However, applied, all dryfall products react and dry rapidly.
We did not tightly define the standard mentioned above with how much pressure to spray at or what the ambient temperature should be. These variables affect the results. So when you see a coating labeled dryfall, it might perform a little differently than another carrying the same label. But it is a fair bet that you will not have to worry about getting unwanted paint on substrates twenty feet away.
PLANES, TRAINS, AND AN ENVIRONMENTAL DISASTER
If you are an industrial contractor, you're already thinking about the cars in the parking lot two miles away. This is because wet, airborne paint will travel a long distance in the wind. Paint that doesn't dry quickly will, by design, bond wherever it lands.
Every painting contractor can tell a story about the time he paid out of his pocket or profit for compounding a parking lot full of cars. If paint lands on vehicles in a parking lot, the owners are furious – and justifiably. Who wants dots of industrial paint on your auto – especially if it is a nice car with a great paint job? Most professionals estimate that the average cost of removing overspray will range from $150 to $500 per car.
An entire industry of companies has a significant corporate focus on just this one problem – a completely preventable problem. This same (and I'm sure excellent) company has experience in removing overspray and offers liability determination from a source as small as 30 microns. Coatings Pro Magazine's article on the topic suggests that any painting contractor should have "an experienced overspray removal company on board from Day One." Additionally, a contractor can now purchase Contractors Pollution Liability Insurance (CPL). A CPL policy provides "third-party coverage for bodily injury, property damage, defense, and cleanup as a result of pollution conditions (sudden/accidental) arising from contracting operations performed by or on behalf of the contractor."
While we can all roll our eyes at the nuisance of overspray landing on cars, environmental examples should cause every paint or coating applicator to stop and examine their best possible practices. This article details:
---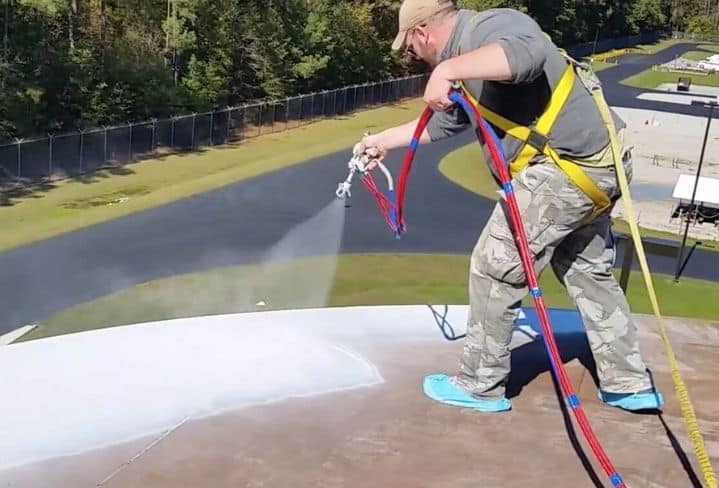 ---
"When a bridge spanning Oregon's Columbia River Gorge received a fresh protective coating, so did the entire city of Astoria on the eastern end of the bridge. Cars, buildings, and even 60-foot yachts were nailed by coating droplets and sand-blasting particulates. When environmental officials discovered that lead paint had also fallen into the river during surface prep, liability claims against the paint contractors soared into the tens of millions of dollars."
WHAT TO DO?
Management is tired of dealing with the problems created by overspray. Companies spend many employee hours and material dollars putting up plastic sheeting. We do all this to keep the paint inside an enclosure and off the other parts of the facility that you do not want to find paint overspray. It is such an issue that many industrial facilities have banned spray painting.
---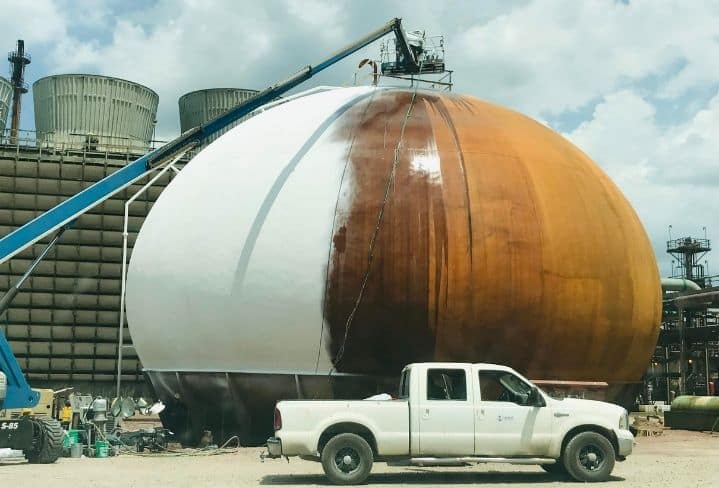 ---
For paint contractors, this is a huge issue. You can spray as much paint in minutes as you can roll in hours. So, if you bid a job at a fixed price, anticipate spray application, and are then told you must roll, you will lose money. The labor cost of rolling is much more. There is an easier way. Spray a dryfall coating.
THREE BENEFITS OF DRYFALL 
The three most obvious and immediate benefits of spraying a dryfall coating become evident to anyone and are detailed here. First, a dryfall coating can be used in most environments and requires very little protection to keep paint off unwanted areas – other than those areas right next to where you are painting. The ease of applying dryfall coating means a much lower cost for preparation leading up to the application. Additionally, dryfall coatings dry faster than traditional coatings and paints, thus allowing the asset to return to service in a shorter period. The reduced asset downtime is a big deal for any industries or businesses that want to paint overnight and be back in operation the following day. Finally, another benefit is that dryfall coatings tend to be low in Volatile Organic Compounds (VOCs) and thus are safer for the environment and the applicator.
If you want to learn more about EonCoat's permanent corrosion protection with dryfall benefits, feel free to call us at 754-222-4919. You can also subscribe to our free E-book.[/vc_column_text][/vc_column][/vc_row]