The High-Temperature
Permanent Corrosion Protection Coating 
EonCoat CUI / High-Temperature Coatings works by alloying the surface of the carbon steel with an especially high-temperature iron phosphate layer. The white ceramic layer which forms on top is also highly temperature-resistant at up to 450C and is filled with phosphate. This chemically bonded phosphate ceramic will prevent your substrate from ever getting corrosion and permanently Protect your steel asset.
This coating can be applied in most atmospheric conditions. Salt and humidity do not interfere with the EonCoat bond to carbon steel. Much like EonCoat Corrosion Protection Coating, it is a 2 part system.
Other Benefits & Recommendations
CUI / High Temperature Coating is available in 9 gals. kits (4.5 gals. part A & 4.5 gals. part B) & 600mL Cartridges (300mL part A & 300mL part B)
We recommend this coating be applied at 45 mils / 1143 microns.
It can be applied directly to rust and only requires that no old paint or mill scale when applying CUI / High-Temperature Coating.
The coating cures in 15 min.
EonCoat CUI / High-Temperature Coating is water-based, inorganic, has no VOCs, no HAPs, and no toxins. It is easy to dispose of and requires minimum personal protection equipment to apply. (Safety goggles and N95 mask).

Less expensive to apply, safer for the people, better for the environment, and extremely long life. 

We are so confident our product will work. We guarantee no rust on your steel for 30 years! That's right, a 30-year warranty.
Temperature range of -160c to 450c
What can CUI / High-Temperature Coating be used on?
Insulated Storage Tanks (Exterior)
Heated Underground Pipelines
Insulated Pipelines
Offshore Platforms
Industrial Equipment that reaches high temperatures.
Carbon Steel with NACE 3 / SSPC-SP6 / SA 2 Commercial Blast Finish that has higher temperature needs
Much More.
Equipment Required to Apply EonCoat
---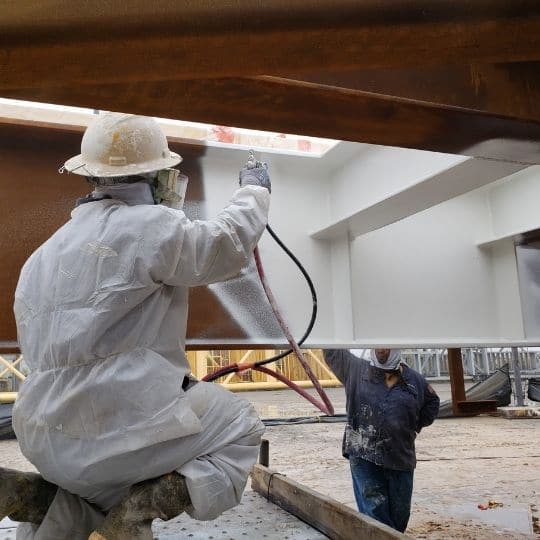 High-Pressure Plural Pump w/ SS Lowers
This setup is meant for high-volume applications like storage tanks, steel structures, pipelines, & more. Click Button Below to Download Equipment Specification Guide for this setup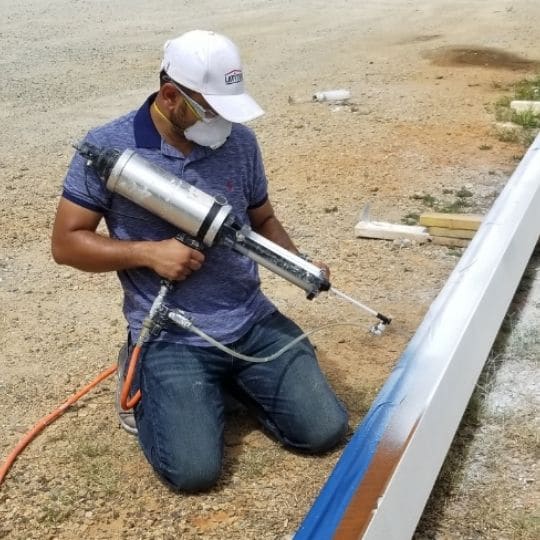 Dual Component Cartridge Spray Gun 
This setup is meant for low-volume applications like touch-ups, small equipment, demonstrations, etc… Click Button Below to Download Equipment Specification Guide for this setup